Fortune8

Sponsor


Posts

: 209


Join date

: 2021-05-08


Location

: South Wales

Fri Sep 03, 2021 10:26 am
I have a 1975 graded South African Gold proof 2 Rand coin, (specifications as the Sovereign). It is graded by NGC as PF 68 CAMEO, "Doubled Die Reverse"
Can anyone on the forum shed some light on the meaning and relevance of "Doubled Die Reverse", and the significance in relationship to the value?
Any and all help appreciated.
Cheers, Rob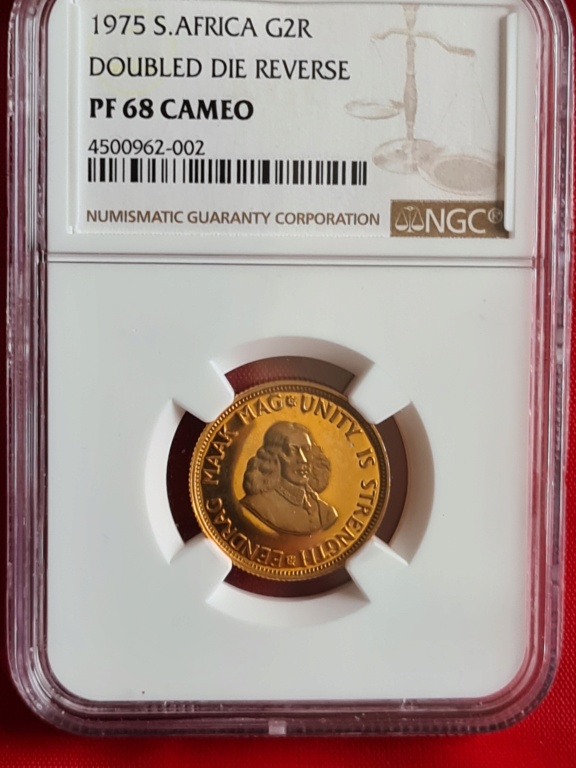 The Cat's Mother

Moderator


Posts

: 1714


Join date

: 2021-05-19


Location

: UK

Hello Lucky
My somewhat shallow research on Google has resulted in the following:
"The coin die that strikes double die coins has a partial or fully doubled image on it. Therefore, the coin has two identical images that are slightly offset. The doubling occurs from mistakes in the die hubbing process. This results in a coin die having more than one image on it." (source - initial trawl down Google opening page), and
"Many people confused double die coins with double struck coins. The major difference is that double struck coins are struck twice by the same coin die during the striking process. A doubled die coin is produced when the coin die is not properly manufactured. This leads to the appearance of two images on a single coin die. The more obvious and distinct the error is, the more the coin will be worth." (source - Spruce Crafts on coin collecting).
You show the obverse of the coin, which is described as doubled die reverse. Does the reverse of the coin show a doubled image or text?
Can't help you with the value I'm afraid.
Ever your 'umble servant, TCM
Admin and Fortune8 like this post
Fortune8

Sponsor


Posts

: 209


Join date

: 2021-05-08


Location

: South Wales

Thank you dear lady for taking the time to research the actual meaning for me, I've studied the coin , and it is not obvious that it has a double image?
What type of eye's and what magnification are they using now at the grading centres?
I'll try and set up some magnification on my computer, and if successful will try and capture an image, not going to be easy while it's in a capsule.
The Cat's Mother

Moderator


Posts

: 1714


Join date

: 2021-05-19


Location

: UK

I am pleased to be of service, dear sir.
I hope that I have provided below a link to the page I read, which shows examples of double dieing (sounds like something that was abolished with capital punishment). I don't know what the reverse of your coin looks like, but can you spot anything similar?

https://www.thesprucecrafts.com/doubled-die-coins-768451

TCM
Admin and Fortune8 like this post
Permissions in this forum:
You
cannot
reply to topics in this forum