Jazz

Posts

: 55


Join date

: 2021-05-24


Age

: 28

Good Evening to everyone here,
I have have personally decided to throw in the towel for this amazing hobby of melting silver into bars etc. Therefore i will have some things to sell. Some items i can deliver and some will have to be collected. Please find the details below:
1 oz troy combo graphite mould £4.00 plus delivery - possibly sold but waiting
A-1 bubble envelopes QTY 85 £13.00 collection but potential delivery if i can find something to put them
2 oz troy graphite mould £7.00 plus delivery - potential sold but awaiting
100g graphite mould £10.00 plus delivery - potential sold but awaiting
5mm Silverline Metal punch set
(letters and numbers) £15.00 - collection or delivery but if you want it delivered i will have to take out from the wooden box, and wrap them each and bag it, as i dont have a box to fit the wooden box in anything
FOR COLLECTION ONLY!
R9D 33 Kiln 33oz (collection only) £170
Needs a new crusible
Comes with a pair of red gloves
Metal and ruber block for stamping
Tongs
Hammer for stamping into the metal
two adjustable Rothernberg gas touch heads for £15.00 together - could deliver
sandpaper mixed types £10
One sheet of 7000
Two sheets of 3000
5 sheets of 5000
Pack of 2500
Pack of 40o
Collection price £200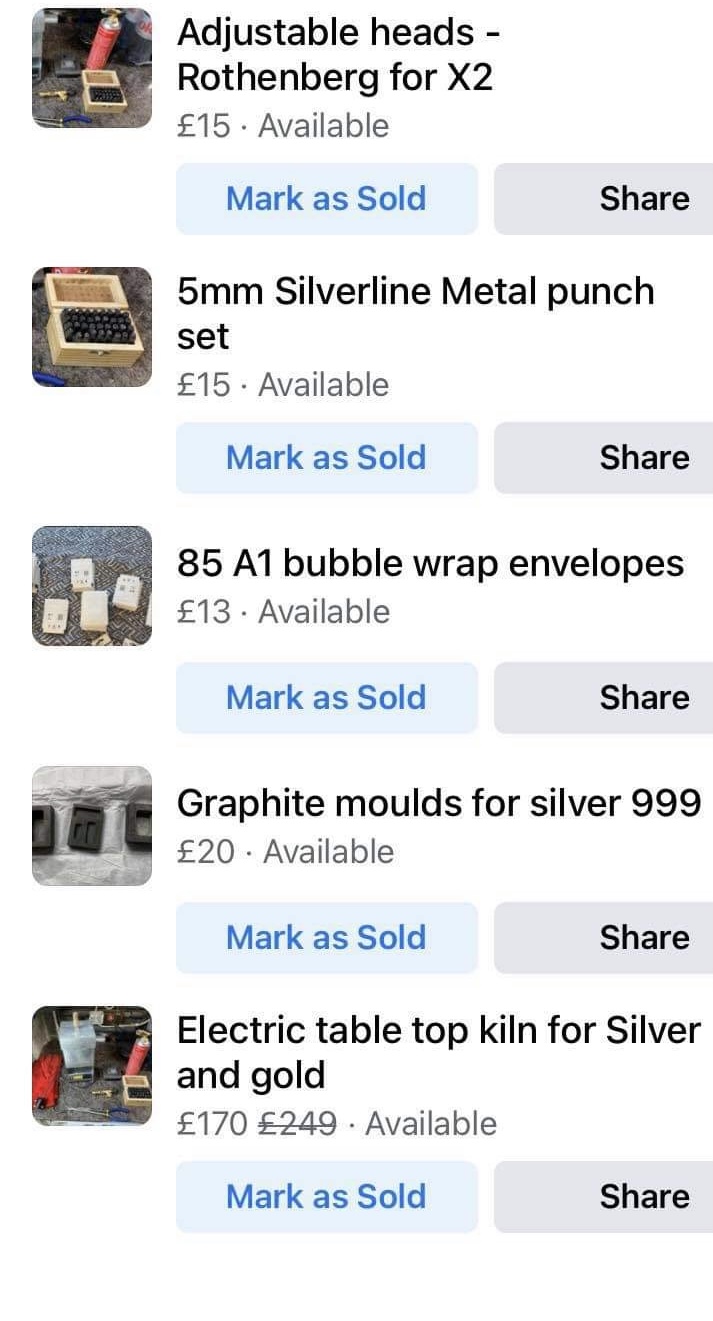 Fortune8 and AceBullion like this post
mervs68

Posts

: 183


Join date

: 2021-07-04


Age

: 69


Location

: Craigavon

Hi Jazz, I'm sorry that you have to give up - it's bound to be upsetting. I sympathise and wish you luck in the future. I'm sorry but I'm a little bit old for a furness and tongs, but am sure there be many take up your offers.
Fortune8 and Jazz like this post
Jazz

Posts

: 55


Join date

: 2021-05-24


Age

: 28

Its cool buddy dont worry
Fortune8, AceBullion and mervs68 like this post
Mon Aug 30, 2021 12:21 pm
It is very sad and a great bargain for anyone who is looking to buy these.

I would buy them all but sadly funds are diverted elsewhere.
Fortune8 and Jazz like this post
Jazz

Posts

: 55


Join date

: 2021-05-24


Age

: 28

Mon Aug 30, 2021 12:31 pm
Dont worry about it its coooool. For anyone starting its not bad. The only thing its needs is a crusible from technical supermarket and some gas with the adjustable heads
Admin and Fortune8 like this post
Permissions in this forum:
You
cannot
reply to topics in this forum