SanMarino

Posts

: 227


Join date

: 2022-06-05

Hello sir, hope your well and the car problem hasn't given or isn't giving you too many issues now you have a full report and hopefully have filled out your small claims form.

I was going through the old British silver coins in my sons collection and we have a lot of duplicates. For example we have 4 silver florins from 1904 but I only want to keep 1 of them aka the best condition one.

I can sell them off and get my money back and maybe a small profit but I was thinking would you be willing to melt a quantity of them down and put them in a silver bar for me?
It's also hassle selling British coins individually, there is a market for any silver content coins but it would be a slow process.

I will pay all the postage costs plus the cost of your time and effort.
It's just rather than get rid of them I would rather keep them and I might have just enough for a few 1kg bars.
Is 1kg big enough or is it worth going to 5 or 10kg?

Is this something you have done before I or would be willing to do?

And how easy is it to melt the coins down, as some of them are only 50% silver?

I have no experience in melting coins and while it's something I would like to do in the future, I would prefer it to go to an expert I trust to carry it out .

Also is it possible to stamp the bar or am I expecting too much?

Anyway it's just an idea at this stage but if it's something you would be interested in doing then please let me have your thoughts?

Thank you
Admin and AceBullion like this post
SanMarino wrote:Hello sir, hope your well and the car problem hasn't given or isn't giving you too many issues now you have a full report and hopefully have filled out your small claims form.

I was going through the old British silver coins in my sons collection and we have a lot of duplicates. For example we have 4 silver florins from 1904 but I only want to keep 1 of them aka the best condition one.

I can sell them off and get my money back and maybe a small profit but I was thinking would you be willing to melt a quantity of them down and put them in a silver bar for me?
It's also hassle selling British coins individually, there is a market for any silver content coins but it would be a slow process.

I will pay all the postage costs plus the cost of your time and effort.
It's just rather than get rid of them I would rather keep them and I might have just enough for a few 1kg bars.
Is 1kg big enough or is it worth going to 5 or 10kg?

Is this something you have done before I or would be willing to do?

And how easy is it to melt the coins down, as some of them are only 50% silver?

I have no experience in melting coins and while it's something I would like to do in the future, I would prefer it to go to an expert I trust to carry it out .

Also is it possible to stamp the bar or am I expecting too much?

Anyway it's just an idea at this stage but if it's something you would be interested in doing then please let me have your thoughts?

Thank you
I ( Ace Bullion )  Using the admin account to post this as I can write more quicker. 
I used to do a lot of gold and silver refining. My man machine ( fume hood ) has died and I am waiting for my friends lab to upgrade so I can get a hold of a newer model. I can not refine the silver for your and make it into a bar. I do know a few places that buy " junk silver " but I don't think yours is junk. 
I can make any size bar you want, but the problem I face is cross contamination of metals.  I have a few furnaces as your aware, one dedicated to Gold now. 
   But more on that later. 
I would sadly suggest selling them and getting a hold of some grade B silver from Martin 
@SilverTrader
I will happily melt down pure bullion into a kilo bar. 
I have just recently sent a load off to be assayed in Edinburgh, and they all passed. I even removed my 10 and 3 5oz bars from my site and had them assayed. They all passed. I figured it was better to have them with a hallmark than not. As more people are inclined to buy if it is proven to be genuine and has the backing of the Edinburgh assay office.  IE a legal guarantee.  
My car... well that is another story. I have a court date now 
 and I have all the legal stuff to go with it. Including information that states the seller broke the law.
Oh yes stamping is fine. btw.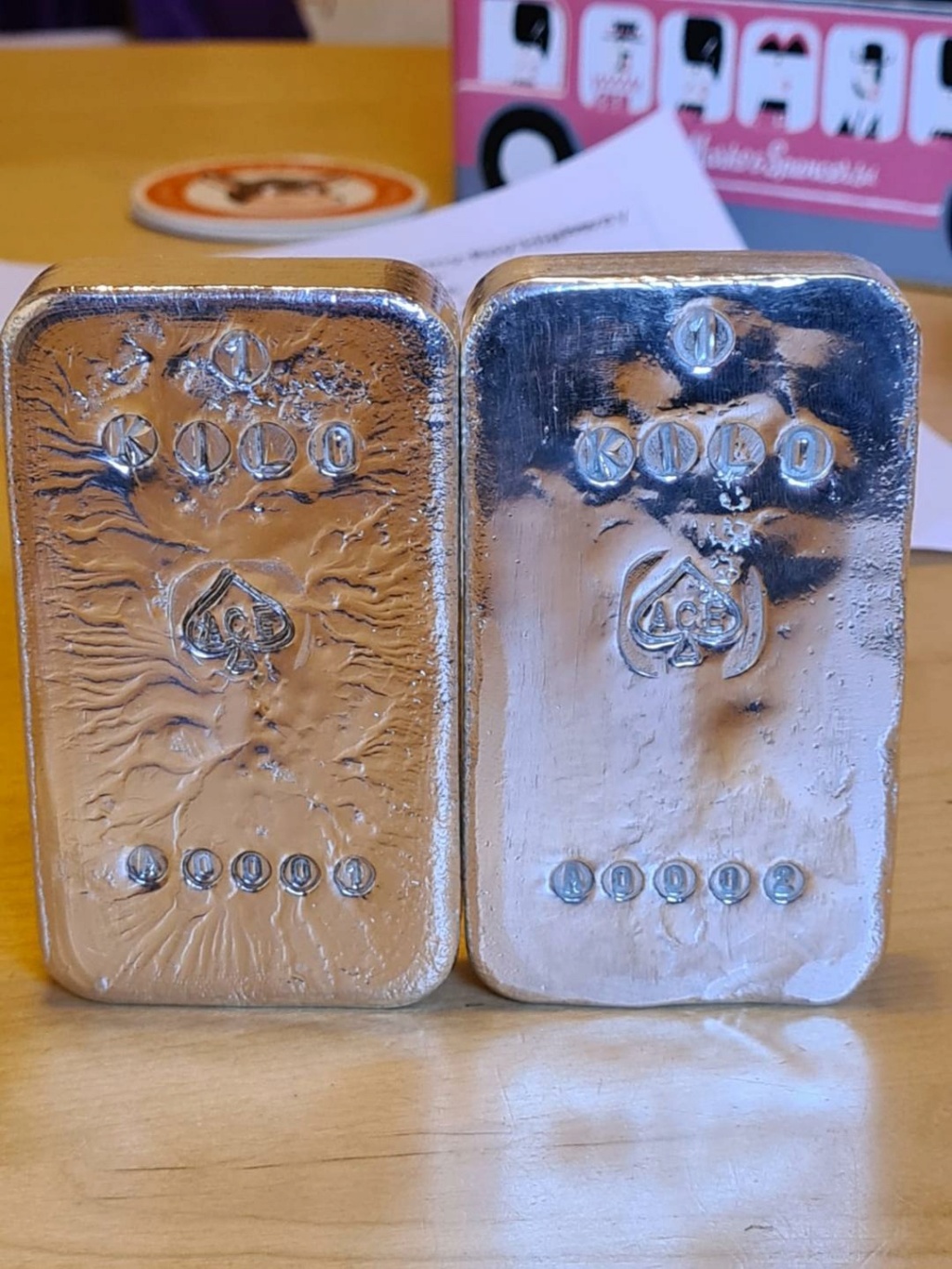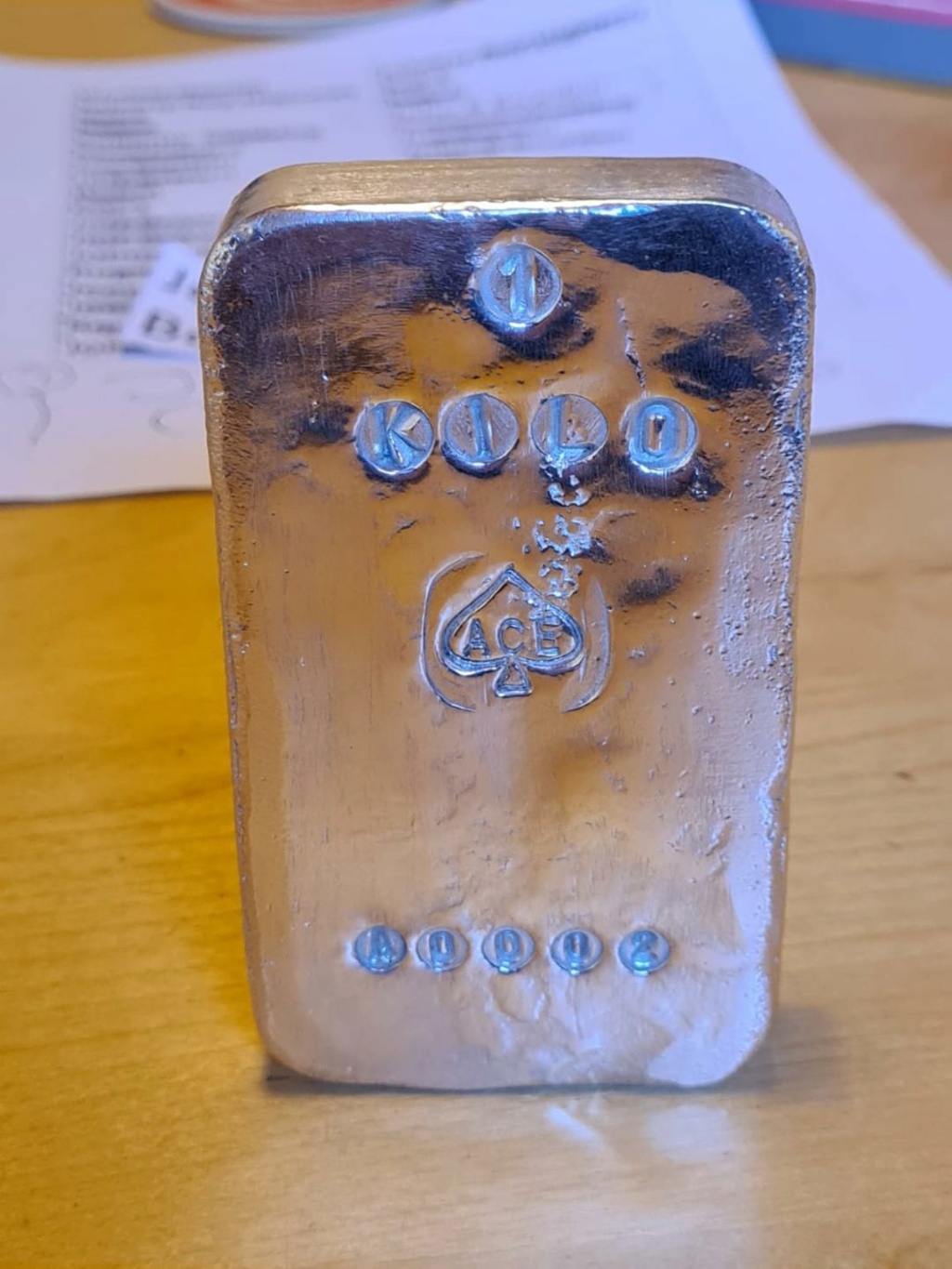 SanMarino likes this post
SanMarino

Posts

: 227


Join date

: 2022-06-05

Fri Sep 02, 2022 10:49 am
Glad the car situation is progressing and no problem at all about the silver.
I think I will take your advice and sell it at some point.

Thanks for replying!
Admin and AceBullion like this post
Permissions in this forum:
You
cannot
reply to topics in this forum